Jewelry For Those Who Embrace Minimalism
Minimalism is the art of letting go of the excess, but exclusively holding on to the best. Adornments, like outfits, are worn as an expression. Adornments are frequently seen as a style extra for finishing an outfit. Women, as well as men, dress to communicate their personality through appearance.
Women. Love. To. Look. Good! And there's nothing amiss with looking pretty and utilizing jewelry to do that. So girls, don't shy away from unapologetically hoarding pieces that are made to enhance your beauty.
Yes, she puts in extra effort in presenting herself in a more poised and glamorous manner. Compared to men, who have recently shown a growing interest in gems and jewelry, women have an everlasting relationship with beautiful and precious pieces of jewelry. For her, purchasing jewelry isn't just an economic deal, it is an emotional investment.
Minimalist jewelry is a segment of jewelry that tries to bring out the essence of the materials used and the theme of a piece by eliminating non-essential embellishments. This market has been booming since there has been a growing interest of the consumers in the intricate designs and details of jewelry.
Especially among the millennials, minimal pieces are trending. Such jewelry is in high demand among corporate people, working professionals, teenagers, and young women who like to adorn themselves with minimal pieces that leave an impact.
Minimalist trends are highlighting the phrase – "less is more" and the changing lifestyles of people today are embracing this phrase. Delicate minimal pieces are light-weight and easy to wear daily. While minimal jewelry may look simple, its precise cuts and designs, glamour, and sheer bling are noteworthy.
Embracing elegance and simplicity seems to be the defining look of the 21st century. Let's check out some essentials in their most basic and simple forms, yet radiant and attractive.
Earrings
A minimalist is someone who will run away at the thought of having mighty earrings drop down their earlobes. Such women prefer either a stick-on or no earrings at all. Thanks to minimal jewelry, now you have a range to choose from.
Basic studs and fine exquisite rings are adorned beautifully and effortlessly. This type of jewelry adds sophistication to the outfit. Simple yet intricate patterns are great for daily wear or office meetings too. Such meetings cannot be attended with heavy or flashy ornaments. Tiny geometric patterns and gold/silver studded with tiny gemstones are preferred by most. So, minimally designed earrings are best to make a statement!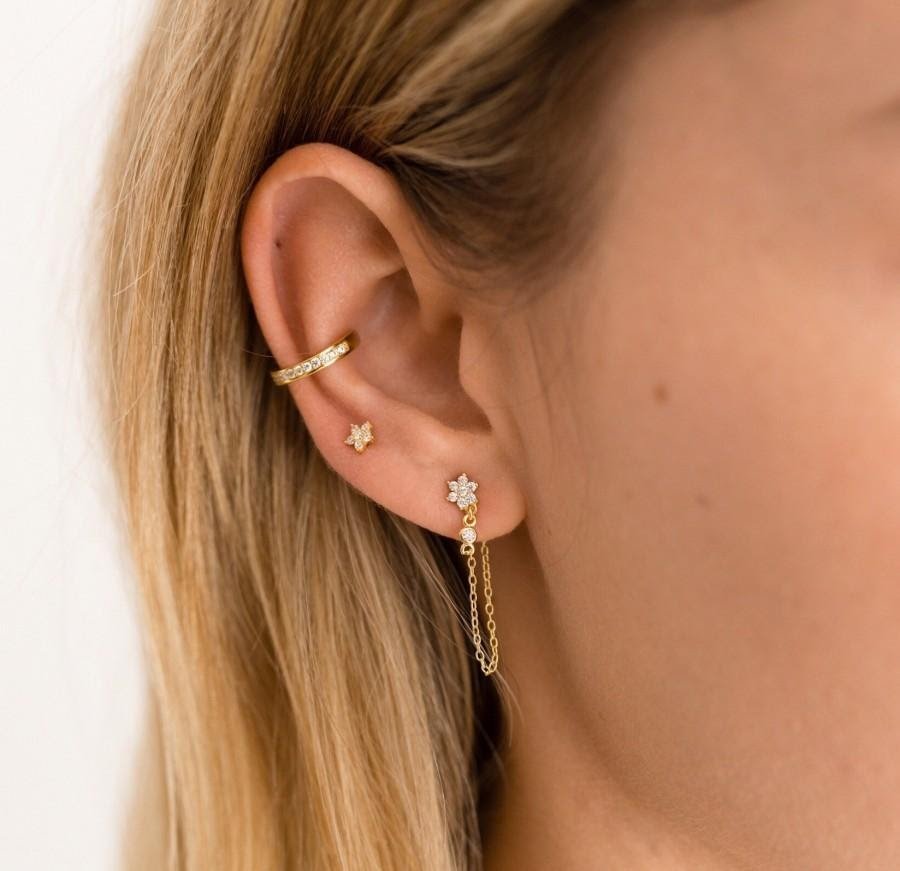 Necklaces
Heavy jewelry does not fascinate all women. Some like to keep it simple. Mostly working women and millennials who go out daily, to attend meetings, formal events or classes, cannot carry heavy jewelry. These women prefer wearing simple yet elegant jewelry.
For such women, dainty necklaces made with gorgeous silver chains and tiny diamonds or pearls work the best. Apart from that, simple and delicate chains can be worn around the neck with a touch of fashion pendant hanging from it. Such necklaces are light and easy to manage. Throw on a delicate silver or gold chain with a stylish pendant on any outfit, including denim and casuals, and be prepared to grab all eyes.
Bracelets or bangles
No, no. We're not talking about those heavy kadas or gold bangles studded with gemstones. Didn't mean to scare the petite minimalist in you! Here, we're talking about the thin solitaire diamond bangle and dainty bracelets. Such pieces of jewel look great on ethnic pieces. However, don't limit yourself to styling these stunning bangles, pair them with regular white outfits and enjoy the attention you receive.
Rings
Adorn your fingers! Well, we understand that your minimalist self has decided to quit reading this blog. Rings after bangles, what nightmare! But don't worry, we do not expect you to deck your hands with heavy gold rings or rings with heavily studded gemstones. Go for subtle and elegant ring bands that don't appear to be attention-seeking yet look glorious. Thin platinum ring bands are in vogue and that's justified!
The world is dynamically changing in terms of culture and lifestyle. During this time, brands and jewelry designers too are evolving to adapt to newer trends. Since most people are getting busier by the day and have less or no time to change jewelry according to events, minimal designs have come to aid. Adornments are now designed to suit occasions from desk to dinner!